Team 1: Mechanical Behavior Study (ECMM)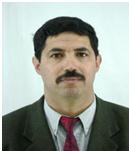 Team leader: Professor
BEZAZI Abderrezak 

CV
Team members 1
| | | | |
| --- | --- | --- | --- |
| Last and First Name | Grade | Specialty | Structure |
| BEZAZI Abderrezak | Pr. | Materials | Univ. May 08, 1945 Guelma |
| ELAGGOUNE Ali | MAA | Mechanical construction | Univ. May 08, 1945 Guelma |
| BOUCHLAGHEM Hafida | MCB | Mechanical construction | U. Constantine-1- |
| MOUSSAI Ahmed Taoufik | MAA.Doc | Mechanical construction | U. M'sila |
| KHELIFA Hocine | MAA.Doc | Mechanical construction | U. Tebessa |
| BOUHEMAME Nasser | MAA.Doc | Mechanical construction | U. Ouargla |
| SAAIDIA Aziz | PhD student | Mechanical construction | Univ. May 08, 1945 Guelma |
| MAACHE Mabrouk | PhD student | Mechanical construction | Univ. May 08, 1945 Guelma |
| BOUMEDIRI Haithem | PhD student | Materials | Univ. May 08, 1945 Guelma |
| AHMED GAID Othmane | PhD student | Mechanical construction | Univ. May 08, 1945 Guelma |
a). Overall objectives:
• Study of static and fatigue behavior and damage of high performance composite materials (carbon fiber composites, sandwiches, honeycomb, etc.);
• Development, manufacturing and mechanical characterization of consumer composites with synthetic fiber and natural fiber components;
• Design, manufacture and characterization, under different stresses, of flexible and rigid foams;
• Repair and restoration of structures (pipeline, boat, civil engineering constructions, etc.) through the use of composite materials.
b). Scientific Foundations:
- New methods of extraction of natural fibers (Palm, Cactus, Agave, ...). This will allow for example to manufacture this type of fiber and use them in the Algerian manufacturing industry (rope factory) and limit their importation from Brazil and Tanzania.
- Design and study of structures in high performance composite materials for use in aerospace technologies (small aircraft ...), satellite, military industry (missile, bulletproof vest, helmet, ...) etc.
- Manufacture of composites and biocomposites with the aim of contributing to the development of the Algerian industry manufacturing prostheses and the naval industry (small boat, kayak, ...), the automotive industry.
- Design and manufacture of flexible polyurethane foam type polymers for the manufacture of mattresses.
- Designing new foams with a negative Poisson's ratio and having higher impact energy absorption characteristics that can be used as a filter, as well as in the footwear industry for diabetics, etc.
- Study of the mechanical performance of high performance rigid foams type Rohacell for industrial applications type: wing of small aircraft, as elements for sandwich structures used in the vehicle industry (Bus, truck, ...).
Keywords:
Composite, polymer, bio-composite, glass or natural carbon fiber, mechanical characterization, fatigue, damage, structural restoration, rigid foam, Rohacell, flexible foam, Polyurethane.